THIS GAME IS NOW CLOSED. THANK YOU FOR PLAYING!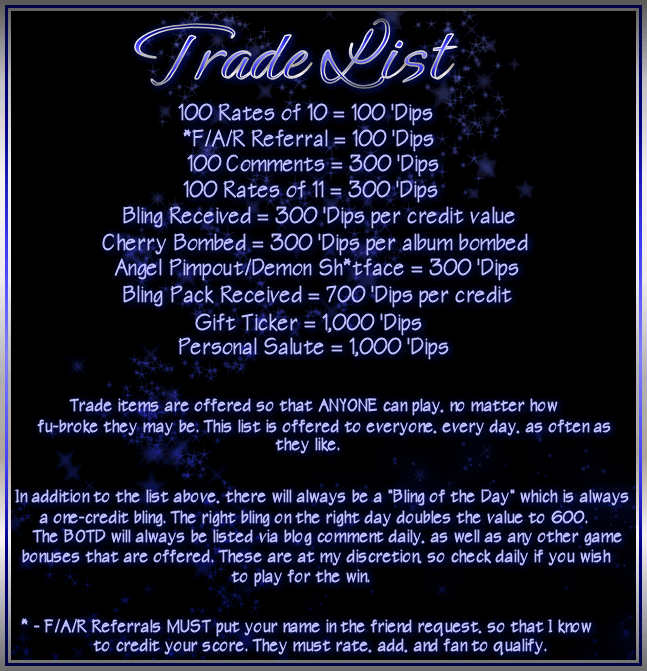 ****** Addition Note for the Trade List - I was asked if bling credit transfers count the same as bling packs, and yes, they do. I offer more for packs and credits because people don't receive fu-points for doing something extra nice, so they are valued higher for my games than usual bling******
GAME F.A.Q.
Who can I order for?

You may order for ANYONE on Fubar, with the exception of yellow staff, and anyone that refuses play. Anyone who wishes to be removed from the game may do so by requesting such through private message at any time. Not all people play for the win - most play simply to give the tokens as gifts to those they care for :) Please request removal ONLY if you do not desire to receive more tokens.


Can I order more than one at a time?

Yes, you can order as many as you want, for as many people that you want. To keep it organized, please send the appropriate amount of fubucks with a list of how many tokens are meant for each person. For example, if you send 5000 fubucks (enough for 10 tokens) you would say "5 to Dawn, User # 975528 and 5 to Cali4nialovin01, User # 884702." If you have traded rates for tokens, you can say something like "Rated Love Box #1 10s. 100 tokens for Dawn #975528". ANY TIME YOU TRADE for tokens, please be sure to message me with what you have done, and who you are playing for.


How long does it take for them to receive them?

That depends on a few things. First, it depends on your order. If it wasn't placed correctly and I have to reply for more information, it will add to the delay. In addition to this, it depends on the number of orders received, and my personal schedule. Usually though, it takes up to 24 hours (but often within hours of request). I ANSWER MAIL IN ORDER OF RECEIVED, so I work from the back to the front of my inbox. Before you would always receive a reply from me, but thanks to the relentless security checks, I can no longer reply to each order. Doing so gives me the bouncer multiple times in a row, only to receive the "session expired" message.


How can I earn tokens for myself?

You can't buy them, but you may earn them for yourself or for anyone else. This is done through completing a selection from the list, which is available to EVERYONE, EVERYDAY, as many times as you'd like. I've created a key with the values for trade tokens, so check that for more information.




How do I find someone's USER ID number?

I had to add this to the list because it is asked so often. To find someone's ID number, visit their profile. Their ID number will display in the top left of your browser, beside their name. Also, you can find it by hovering over their link on your friends list (if you have your status bar turned on) or by clicking REPLY to any email or gift received from them.


Can I upload my token tag?

Yes. It's yours, and you're free to upload it to any album that you'd like. Often, this is the best way to receive more (since your friends see it and will often jump in to help your score).


Anything else I need to know?

Sure! First, if you RECEIVE a token, it is NOT from me (I host the games, and I make and deliver the tokens, but it is up to everyone else to decide who receives them). You received it because it was YOUR user number on the order. Also, there are a few exceptions to the delivery rule. If I can't contact the person through mail, comment, and I've already left a friend request - I have no other means of delivering your gifts until they accept the request.
THE SCOREBOARD - (Final Posting)
40144 - JustineThyme - 1
331306 - Lynne - 32500
342244 - The Big Mike - 20000
426578 - Mrs BigD - 8010
447507 - Rhonda - 300
507837 - Tejana Por Vida - 8
5261022 - WildNightsItalianBabe - 100
534649 - EviePooh - 25
554141 - TheMean1Incher - 25
580110 - Evil Dr BK - 1
595165 - Cherie - 4900
625490 - NOVA - 11400
718097 - Carmelle - 30
718223 - Chas - 10
771662 - Kage - 52820
773409 - zecasantos - 10
886660 - IslandGirl - 1800
901293 - Dee da Woman - 600
955929 - sweetangel - 20
1029198 - Mz Chaos RoXX - 5
1023535 - Crystal - 50
1037258 - Heartistic Soul - 2 (Not really playing, but thank you Mark :p )
1152499 - Amy - 25
1280881 - mooshmooshak - 10 (delivered via friend request)
1290059 - Jasmine - 600
1294023 - RandaLeigh - 50
1302463 - Spazzy69 - 5
1416275 - Tainted - 25
1418435 - Meg - 30
1473959 - LilTweetyPie - 1
1480698 - Gem Girl - 25
1562723 - The Crazy One U Can't Handle - 40
1638067 - DaYuM PhYneE Bytch - 2000
1653993 - St. Michael - 2000
1682725 - Mikey69 - 1000
1749622 - Katie - 2000
1756778 - Johnny Riggs - 1300
1790047 - LuckyLynk - 1
1821504 - Big Daddy Love - 100
1863134 - Rapsnap - 10
1899145 - VolareDave - 600
2016600 - Rav3n JFL - 1
2052604 - Ashton - 25
2057136 - DJ Joykiller - 20
2125996 - DaMaDiViNa - 20000
2158505 - Sirius - 10501
2234992 - SilverDodge - 425
2241518 - Nikki - 305
2284047 - MeowBaby - 9545
2284049 - Smoke20 - 300
2284121 - Yakuza - 350
2369734 - MichaelJay - 1800
2400828 - Chevygrl - 79192
2402215 - Vito - 10
2412555 - LadyVixen - 10
2423423 - Angela - 6
2545398 - Jrie - 1
2545729 - Mia - 25
2634701 - Diesel - 1100
2752698 - sassin613 - 50
2791369 - Spankalicious - 3450
3082719 - Jenlove - 25
3397575 - MissBehayvn - 100
3414100 - White Mamba - 69
3441699 - xChRiSx - 100
3461261 - JONM - 300
3467569 - Chelly - 10
3478462 - BigD - 10000
3501856 - KrayZSweet - 1
3520789 - Ozzy - 300
3638128 - Jaaamesssss - 10
3654402 - Wicked - 500
3737319 - James - 1 (delivered via friend request)
3745155 - FeistyBitcha - 10
3772411 - Marcie - 125696
3844057 - TheDevilHimself - 5
3869998 - Sabrina - 100
3870508 - Temptress - 5
3913096 - Brian - 1000
3924269 - assemblyworker - 1
4123758 - Heavenly Holly - 25 (delivered via friend request)
4132501 - Bad Influence - 400
4713059 - Railroad Hoe - 750
4965286 - Flaminhot - 900
The scoreboard will be updated as tokens are sent. If you see someone's name on the board, they've received their tokens. If you have ordered and do not see their name on the board yet, I'm working on it ;)
ADDED 7/23
*** IF YOU ARE PLAYING THIS GAME PLEASE READ ***
First off, thank you all for playing. I understand that 95% of the people that play my games do NOT play for the win, and for that reason I want to let you know that I appreciate the fact that you take the time (and bucks) to send something to make someone smile.Now that I've said that...lol...I'd also like to remind everyone that it takes a great deal of time to go through mail...make the image...upload it...deliver it...etc. so patience is appreciated. (Especially when, as stated, 95% don't play for the win, and enjoy having the chance to send a few tokens to multiple people).Also...before you play, or BEFORE YOU ASK OTHERS TO PLAY FOR YOU (not yelling, just want to make sure everyone read that part lol) please ask them to read this blog as well. My reason for asking this is because most of the questions they keep asking me are already answered within the blog or within the FAQ, and every time I have to stop to answer a question or an email it just adds to the delay of the game :) Besides, if they read the blog before they order for you, I won't have to email them back and tell them that I need to know who they are playing for (you'd not believe how many blank messages I get, saying only that someone has sent fubucks with no explanation of who they are for...and then the person who they were supposed to be for emails me to ask why they haven't received them yet LOL). So please, take a few moments to read about how to play the game, and look over the FAQ if you are a new player :)
One more thing...since people keep asking :p Anyone can join or leave this game up until the time that it closes. It is never too late to play, and just because someone gains a large advantage in numbers means nothing in these games. I offer bonuses all the time (ask anyone that has played before which one their favorite is :p) that allow everyone a fair shot of winning. These games aren't a sprint, they're a marathon.
Best wishes, and good luck to everyone. Thank you for taking the time to read this post - hopefully it will cut down on some of the confusion :)