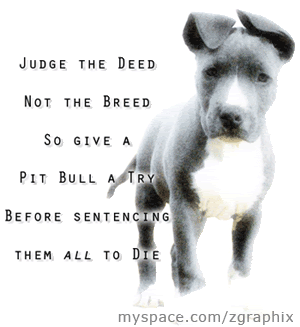 Denver Has Banned Them - Aurora Now Too!! When Are People Going to Learn That It Isn't The Breed Thats Dangerous - It's US!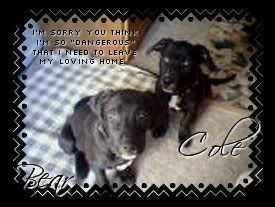 ~~*Bear & Cole*~~
To Lose Such Loving And Faithful Dogs Due To Some People's Ignorant Fear .... Is Just Heartbreaking.
They Now Reside With A Family In Colorado Springs... Thanks Goes To The PBRC ~Pit Bull Rescue~
For Getting Then Relocated Out Of The City, So They Were Not Destroyed.
¢¾They Are ALWAYS In Our Broken Hearts¢¾
"THESE DOGS NEED OUR HELP .... NOT OUR HATE."
Copyright © 2021 Social Concepts, Inc. All Rights Reserved. Patent Pending.
blog.php' rendered in 0.1759 seconds on machine '240'.