4/3/08 1PM I'm riding to south parc today to honor Su's Family. Please pray for them, and be protectors of the children. No child should live in fear... 4/3/08 3PM There were literally hundreds of stuffed bears, ribbons, cards, and flowers under a tree in front of their apartment. I left my card and watched as a police officer escorted her father out to see the tokens of support. He buried his head in his hands, and was escorted back inside. Overwhelming. Hser Nay Moo's funeral scheduled for Monday April 3rd, 2008 @ 5:05pm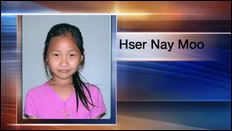 (KSL News) Funeral services for slain 7-year-old Hser Nay Moo will be held in Salt Lake City on Monday afternoon. Her body was found Tuesday evening in the apartment of a neighbor following an exhaustive 24-hour search. Twenty-one-year-old Esar Met was taken into custody on suspicion of kidnapping and murder. Formal charges are expected to be filed against Met tomorrow or early next week. A local mortuary is said to be donating its services for Hser Nay Moo's funeral. There's a fund set up at Zion's bank to help Hser Nay Moo's family. A community-created memorial continues to grow outside the South Parc apartment in South Salt Lake. Today Hser Nay Moo's father Cartoon, came out to look at the cards, posters and stuffed animals left in memory of his daughter. "Su" was her father's only daughter. He has four sons, one is just a few weeks old. Family friends, classmates and searchers have been leaving tributes to the little girl since her body was discovered Tuesday night.
Copyright © 2021 Social Concepts, Inc. All Rights Reserved. Patent Pending.
blog.php' rendered in 0.1602 seconds on machine '214'.