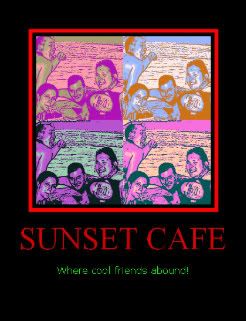 double d

@ fubar
Sweet_Baby1030


@ fubar
DJ DISTURBED DJ at SUNSET CAFE ,chill factor &tigers den ~Fu-Husband & R/L BF to DJ Yummy & EMOTE HE


@ fubar
carlos

@ fubar
lilshortcake1


@ fubar
shovelking/ owned by *Patti*


@ fubar
~Dj Kera The Blue Eyed Goddess~Co Owner of ~Sunset Cafe~Ghost Angel~

@ fubar
Dj DREAM KING STATION MANAGER@SUNSETCAFE


@ fubar
~DJ Yummy~Demon Crew member & Asst.DJ@SunSetCafe~FuWife to R/L GF to DJ Disturbed~Kights BabyGirl


@ fubar
Kitty Kitty ~Promoter/Greeter@Sunset Cafe~MRS. DON THIBODAUX, THE MAN....


@ fubar
BluEyedNikki "Forbidden Freak" & Greeter @Sunset Cafe


@ fubar
~RescueDiva~Owner of ~Sunset Cafe ~Owner of DJ Meko~Friendship Circle~Lollipop Girlz~Lu


@ fubar
CajunDon~Security Specailist@Sunset Cafe~Fu prisoner of love to Kitty Kitty~


@ fubar
Some Weird Short Chick ~~Greeter @ Sunset Cafe ~~ One of Ghost's Angels

@ fubar
dreampanther **GREETER@ REBEL'S AND REDNECKS BAR **


@ fubar
PIMPED OUT (& designed) BY HEAD DJ, DJ DEVINE, AT SUNSET CAFE FOR MEMBERS THAT ARE IN THE LOUNGE AT ANY RANDOM GIVEN PERIOD OF TIME! YOU TOO CAN BE PIMPED OUT AS A MEMBER OF SUNSET CAFE....ARE YOU HERE YET???? ANOTHER PERK OF BEING A MEMBER IS THE SUNSET CAFE BEACH BASH PHOTO CONTEST..see DJ Devine for details!!!!
DJ Devine ~HeadDJ@Sunset Cafe~DJ @ All Hits Radio~ All 4 Drama Free Zones! :D


@ fubar
5 years ago
fubar news
by
babyjesus
10 years ago
fubar.com ideas!
by
babyjesus
Copyright © 2021 Social Concepts, Inc. All Rights Reserved. Patent Pending.
blog.php' rendered in 0.2983 seconds on machine '182'.