Well folks, It's finally here. It's Football season. Heres to a great season. GO HOGS GO WOOOOOOOOOOOO PIG SOOIE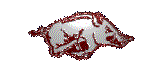 Hit that line Hit that line keep on going move that ball right down the field Give a cheer Rah Rah!! Never fear Rah Rah!! ARKANSAS will never yield.. On your toes Razorbacks to the finish Carry on with all your Might for it's A A A R K A N S A S for ARKANSAS FIGHT! FIGHT!! FIGHT!! WPS!!
Copyright © 2021 Social Concepts, Inc. All Rights Reserved. Patent Pending.
blog.php' rendered in 0.1486 seconds on machine '223'.