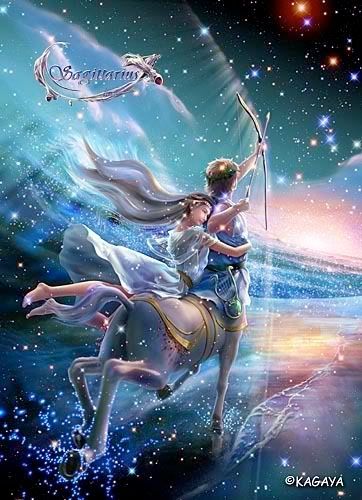 You are Sagittarius The Archer Modality: Mutable Element: Fire Ruler: Jupiter Season: Fall 9th Sign of Zodiac Metal: Tin Stone: Topaz Color: Turquoise Anatomy: Hips, Thighs, Muscles Keywords: optimistic, restless, enthusiastic, adventurous, honest, irresponsible, outspoken, independent Comparison with its symbol, the Archer: Sagittarius is symbolized by the Archer--half-man, half-horse. This symbolizes the Sagittarian's attempt to free itself from man's animal nature. The centaur is thought to symbolize the development of the human soul. It symbolizes the animal natures and desires of man, as well as its spiritual aspirations. In Greek mythology, centaurs were adventurous, brave, and wise; they were also given to brawling and uncivilized behavior. The glyph for Sagittarius is a straightforward one -- it depicts the archer's arrow slung in a bow. This glyph symbolizes the desire for direction, a higher purpose, and abundance.
Copyright © 2016 Social Concepts, Inc. All Rights Reserved. Patent Pending.
blog.php' rendered in 0.3491 seconds on machine '185'.