I remember back in the day when Fubar was known as CherryTap.
Not sure how i came across this website back in the day but found it, signed up and got right into it.
Alot has happened with my experience on here and the site has come a long way since than.
For those who weren't here back than, here's a screenshot and it will give you a rough idea of where Fubar was back than.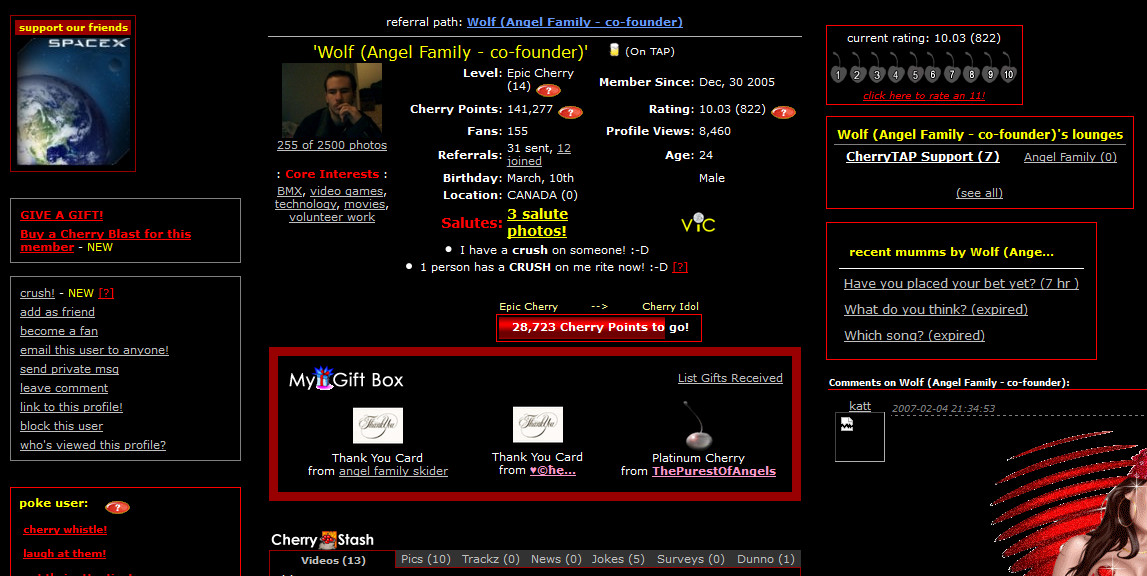 When i first joined, it was known as lostcherry.com.
Lounges & Weddings
So this is how it worked.
People who loved eachother on here would decide to get married on the site.
How it would work is a time would be set for this to take place where a pastor of the site would come in to the lounge and marry the couple.
People would join the lounge to congratulate them, than a wedding certificate would be made stating that they are married. (done in a image of course).
Here's a lounge screenshot.
Families
Users would form a family name than get their friends and other users to join their family.
In the user's name, they would specify what family they're a part of, take part in lounge discussions etc.
You'll notice in the CherryTap screenshot i specified i was in the Angel Family.
It was fun none the less.
Than we would come up with cool ideas on how to keep track of users, creating family crests etc.
Lounges
I haven't joined a lounge since i've been back so i'm not what they're like now lol.
They were fun as users would chat about anything while live DJ'S would live stram music to keep the party going.
Users of the lounge would start passing drinks around, getting people drunk etc.
Quite a bit of role play which was pretty cool ;)
Bulletins were a big feature to promote other users to joining the lounges.
They don't seem to be as BIG or popular like they were than.
Over the last couple of days i just sat on here and just reflected back than haha
Were you here at that point in time? (would have been around 2006)?