We're updating the styling and functionality of the existing Chat box in the top center of every page.
Here's how it'll look:
The biggest changes are new chat messages will show up at the bottom of the box, instead of the top. Also, the text area to reply to someone to be rite below their name after clicking on the 'reply' icon/link next to the message.
We're also adding a larger 'pop out' version of the Chat area. You'll be able to pop-out your chat box, and close the rest of your fubar windows (if you want) that way you can chat with your homies from the office without The Man holding you down. Here's how that page will look: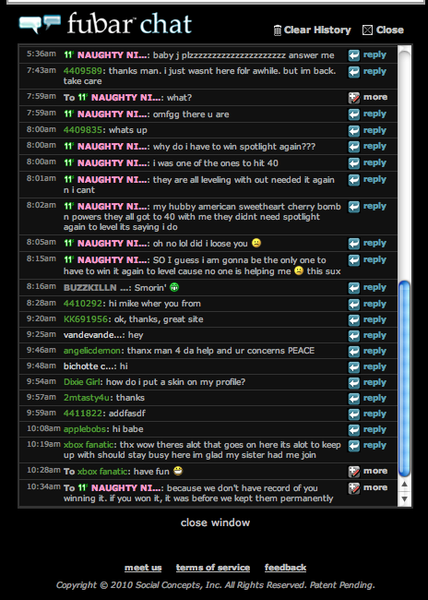 We're planning to turn this on in a few hours, probably around 1 or 2PM PST. Thoughts and feedback are welcomed! Cheers,
-mike

Need some ideas for new stuff to do on fubar.... got any
Copyright © 2016 Social Concepts, Inc. All Rights Reserved. Patent Pending.
blog.php' rendered in 2.4502 seconds on machine '212'.