Nirvana Underground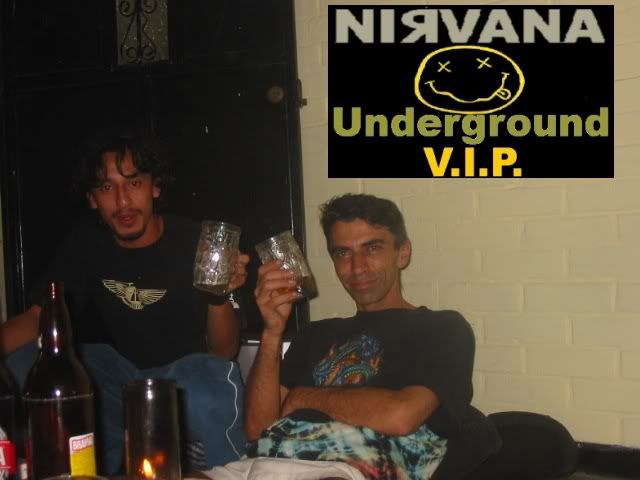 picture of Moi and Tops at the first V.I.P. parties (upstairs) History: (an underground re-opening.) The bar closed to the public in october 2004; The actual bar furniture was moved to a small house in sector 4. the bar remained in the outside next to the house since it didn't even fit inside the house. The months of november and december 2004 were kind of quiet at times. Nirvana's regular customers showed up at the house since there was no more bar to go to. in december 2004 some parties were held at the house especially for christmas and new year. January and february were times of casual parties and some sentiment of nostalgia which made us re-activate the freezers from the bar which were kept in the small kitchen of the house. these freezers were sometimes filled with beer and cases of beer were bought directly from the truck to hold parties. some other parties had rum or scotch whisky. In april a big house was spotted on the block where the small house was, this was sector 4 and some customers and friends lived on that block so the two story house was rented. The new location had a garage for 2 cars a living room a visitor's bathroom, a kitchen and two rooms in the first floor. The second floor had a room with a balcony which was well lit and a middle room with a bathroom which seemed dark because it had no windows. this room also had a bathroom. As we moved into the new location the livinroom seemed like a perfect place for that bar which had been sitting in the outside for 6 months already. (the bar had been built by rock fans for the first concerts at Nirvana Rock.Cafe). So the livingroom which was the first room to enter as you pass the garage became a bar. its stools and computer with mp3s were quickly put there and the bar became operational. Since it was a quiet neigborhood it was never intended to be a business as the previous Nirvana Rock-Cafe was. The bar was there to receive all those visitors to our house who were our friends and who missed Nirvana Rock-Cafe since there was nowhere to go in the area anymore except again the errie looking cantinas. Our friends and friends of our friends showed up in larger numbers and more frequent visits, usually dragged in by the constant parties held there. The first party was Tops' birthday party april 13th, which dragged a lot of people in, who brought everything needed such as beer, rum, whisky, tequila, ice, appetizers, cds of music, friends and fun not to mentioned many drunk ones at the end. Nex history blog.......The V.I.P.
the bar in the livingroom (downstairs)
Copyright © 2021 Social Concepts, Inc. All Rights Reserved. Patent Pending.
blog.php' rendered in 0.3207 seconds on machine '210'.