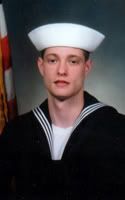 Died March 17, 2003 serving during Operation Enduring Freedom 23, of Charlestown, Md.; assigned to the destroyer Deyo, homeported in Norfolk, Va.; killed in a non-combat-related incident on March 17, 2003, in the Red Sea.
Copyright © 2013 Social Concepts, Inc. All Rights Reserved. Patent Pending.
blog.php' rendered in 0.1342 seconds on machine '230'.