New Friday Nite photos inside. Friday nite. The Spiked Frapp is in my hand, beside my ever chiming cellphone. In the studio, discussing the next track. About to leave for a friend's party...
A friend took this later in the evening, and sent it to me by email....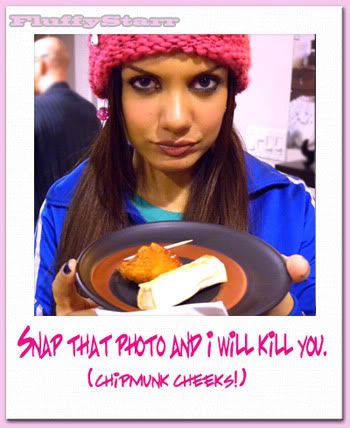 I had a big dumpling in my mouth, hence my chipmunk cheeks. I turned around and saw him pointing his phone at me. I said "don't do it" with my mouth full. And, he did it! Of course! (Thanks, Dave!) Haha! I love my friends! Last time, with whip cream all over my face. This time with my mouth way too full. Perhaps I should learn to eat like a little lady and not stuff entire dumplings into my mouth all at once? (Hey, I was hungry!) Still have my tattoo blog, and a new vlog. Will be up very soon. So stay tuned.... x Fluffykins.