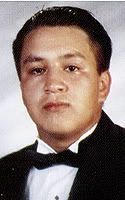 Died May 12, 2003 serving during Operation Iraqi Freedom 19, of Norwalk, Calif.; assigned to 1st Supply Battalion, 1st Force Service Support Group, Camp Pendleton, Calif.; killed in Iraq when unexploded ordnance he was handling detonated.
Copyright © 2016 Social Concepts, Inc. All Rights Reserved. Patent Pending.
blog.php' rendered in 0.3473 seconds on machine '239'.