I'm sure some of U have noticed I've been MIA for a week. My daughter started labor last week, but it wasnt progressing. Her Doc here in my small town is running for state senate, so my family wasnt at the top of his list. I tried so hard to keep her strong. Its been the most heart wrenching week I've ever had in my life. There's nothing worse in this world than watching ur baby go thru pain and noone will help her. Finally after a week of labor, she dialated. Thank God. Soooo, she was admitted for the 3rd and final time. The "wonderful" Doc came in, gave her an epidural and left. There she laid, dialated to 10 for 5 hrs, while he went home and slept. She of course felt no pain, so it was ok with everyone but me. Finally, he came back and broke her water and told her she could start pushing with contractions whenever she liked. I was like OMG! He went to the room next to hers and slept. Soooo, her labor nurse tells me we'll be doing the work. We were to watch the monitor for the TOCO number to rise, and grab her legs and push them to her chest while she pushes. I was like, WHAT WILL YA'LL BE DOING???? He's like, when her head comes I'll get the doctor. OMG...soooo we did that, and He came in and caught her shortly after we started. Thank God this fiasco is over. Klairah LeeAnn is here and very beautiful..named after my mother and I. Thank U God, for such a beautiful gift. Klairah LeeAnn..Born Nov. 1 2008..... 6 lbs, 19 1/2 inches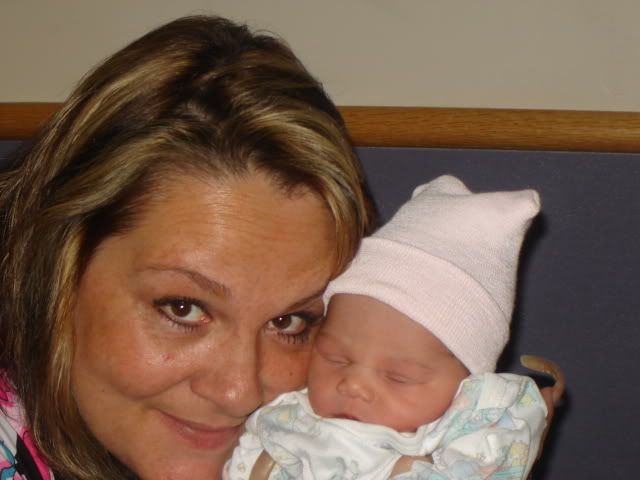 Blondie NO Blank Req...
hmm Please R/L/A/F/C Needing points ♥ All my family and...♥
Copyright © 2013 Social Concepts, Inc. All Rights Reserved. Patent Pending.
blog.php' rendered in 0.2711 seconds on machine '181'.