I am bored and said I would a bulletin about illegal Immigrant reform this morning … but just got around to it and am too lazy to keep running back between a blog and bulletin so decided to simply write a blog, I found this photo on a native American site… [I actually wrote the letter but for the sake of the blog damn it let Me say I found it]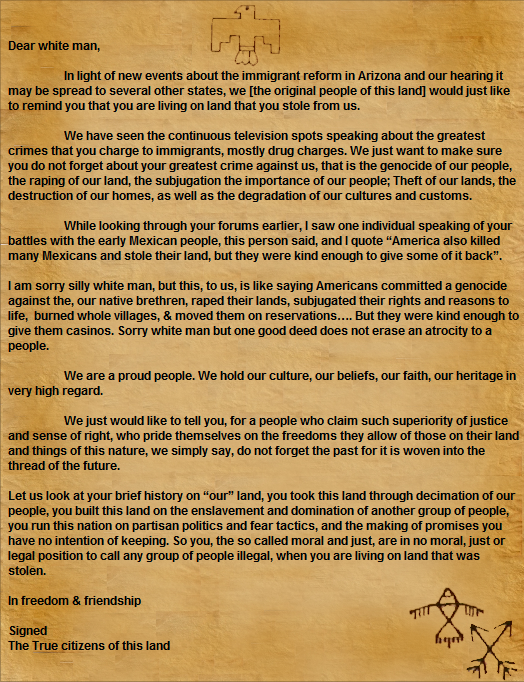 Okay I personally find it funny for a people who live on stolen property, who pride themselves on owning the land, and who celebrates the genocide the original people of this land [which is pretty much what I think Thanks giving is… screw that first dinner crap, oh yes we ate with them….gained their trust.. then mass slaughtered them… yay America…retards] to think themselves in any position, be it moral or legal position to tell anyone they are here illegally, especially on a land that you do not truly own.

And before anyone says anything, I used the term white man, because I was speaking from the perspective of an Native America, I was going to use the term "paleface" which is what the native Americans called white people, but by the time I thought of this I had already wrote this letter, does not mean I still may not rewrite the letter …

Okay I, from speaking to several conservative and liberal friends, and contrary to a certain idiot political mummer, conservative DOES NOT mean republican, and liberal DOES NOT mean democrat, these things are NOT interchangeable terms. Anyway when speaking to several conservative and liberal friends of Mines, some were for the immigration reform, some were against it, I personally am against it.

I just love the arguments, it will stop crime, look at Arizona and the statistics of the United States as a whole, 80% + crimes are committed by Legal citizens. Another personal favorite of Mines, they "take" American jobs, oh you mean the jobs that most Americans are too proud to work? Let us not forget of course, a very large chunk of this country use to be Mexico.

Oh yea and another favorite of Mines, they have no right here, um sorry silly little American, just because your ancestors committed a great act of genocide against some of My ancestors, then settled here, and then used another part of My ancestry to build your wealth through enslavement. Does not mean you are in any moral position to stake any claims on this land.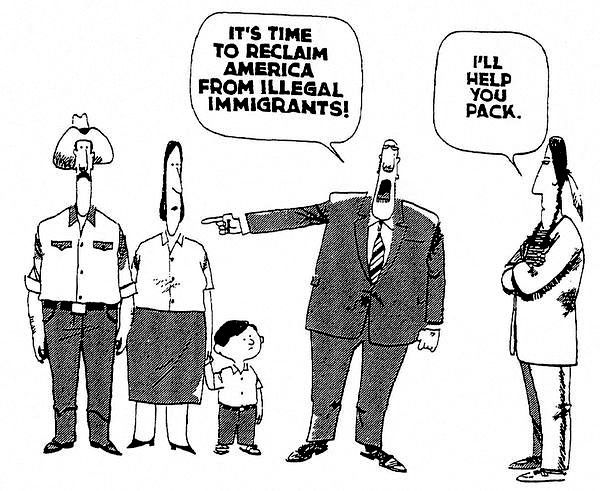 I would enjoy hearing some of your views on the new Immigration reform, I am sure, as My blogs always do that this will go off topic..but I expected it so also have fun.