250k Fubux GiveAway
&
1st=250k, 2nd=100k, 3rd=50k
250 EZ Rate ECards2
=30k Entry into Giveaway
The Following FuS
Rated All Pics & Followed Instructions
By Commenting On Last Pic
for Giveaway Entry:
Angel Kitty
BabyGirl
Bella Rayne
bigmike
Bill & Tina
BossLady
bosslady58
Brandywine
Cooldude
Dixie Diva
DJ Jay
Dj War Hittin Hard
Empress Tera
Judge Dale
JuggaLotus
KansasAngel
Latin Queen
lilangels
Liz
LuvthisAngel2
MD's Sweety
Meanmistreated
Metal Baby
NewDude
Night Walker
nocturnal kitten
Phoenix64
Po Folk
psg
QT in Pink
RCman
reccono
RubberxxDuckiez
Shank
So Fresh
Spring Night Stalker
Stormy
Sweet&Sassy
teddybear joe
TotallyHugeObsessed
Whobe Yoube

Names will be made Random using
www.Random.org
Numbers will be chosen using
www.mathgoodies.com
WINNERS

1st: Po Folk
2nd: Whobe Yoube
3rd: Kansas Angel
Additonal Consolation: QT In Pink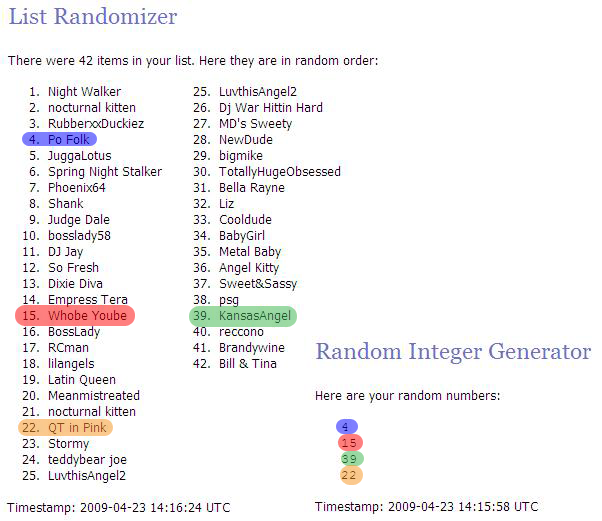 Copyright © 2016 Social Concepts, Inc. All Rights Reserved. Patent Pending.
blog.php' rendered in 0.4058 seconds on machine '227'.