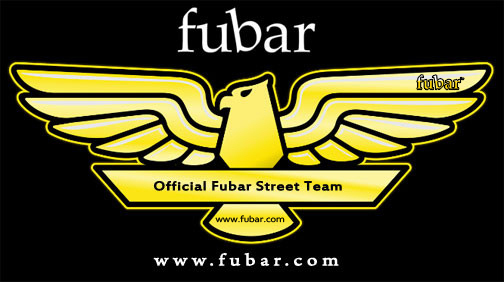 What is the fubar Street Team and how do I join?

The fubar Street Team is a volunteer group of passionate users who are dedicated to helping promote the site. The goal is to grow fubar and get more cool people to sign up and start hanging out. If you are interested in joining the Fubar Street Team, please add the Fubar Street Team photo. Once your friend request is accepted. Please read the blogs. Anyone can participate.
If you are Interested Please send me a message! REMEMBER you muct have a valid Fubar Salute to be on the Street Team!
What is a salute and how do I make one?

A salute is a candid photo of yourself (showing your entire face, unobstructed by sunglasses, etc.) holding a HANDWRITTEN sign with your screen name, member ID, and fubar.com proving to the world that you're the real person behind your fubar profile. Members often write their information on their hands, feet or other body parts. Please do not submit NSFW salutes. You will NOT be able to move up past level 20 without a verified salute. You'll also be awarded 50,000 fuBucks and points for your first approved salute!

If you do not submit a salute by level 20, your level will freeze along with your points. This means that, until you submit a salute to level up, you will not be able to accumulate points by participating in the day to day actions on fubar.

Submitting a salute is a level-up requirement. If you do not wish to submit a salute, that is OK, but your level will freeze at level 20.
How do I make a salute?

Take a photo of yourself with the following information clearly displayed in the photo.



1. Your SCREEN NAME,
2. Your Member ID number, (which is located in the end of your URL address; www.fubar.com/user/22)
3. AND, the word: fubar

Photos must be of your FULL face and unobstructed by hats or sunglasses. They must be clear and bright and NOT photoshopped in any way. Please make sure to not have mystery man hands that are obviously superimposed. Hold the salute like a normal person and do not cut off your arms, hands, etc. If you are going to write on yourself, make sure to have a few legit paper salutes first.

If you would like to see why we are strict about this, stop by my Hall of Shame and see the fake salute attempts. Don't do this please. You will be exposed, and you will not be happy when your salute is removed.



The following items will be accepted as a complimentary addition to your salute:
You wearing a fubar t-shirt or you in front of your fubar homepage (not your profile page or any other fubar page) that is CLEARLY visible.
Photoshopped or any "type" print will NOT be accepted.
Grainy and barely legible salutes will NOT be accepted.
Salutes placed in a PRIVATE album will NOT be accepted.
Salutes where part of your face can not be seen will not be accepted
Black and White photos will NOT be accepted
How do I submit a salute?

Upload your salute to your main gallery just like you would any other photo. Click on the "Submit as a salute!" link below the photo. Once you click to submit, a verification page will come up to confirm your entry. Confirm the photo(s) that you want to be verified and wait. Once your salute(s) is verified by our staff, it will appear at the top of your gallery page.

All Salutes are approved by the fubar Bouncers. Using fake or bogus photos will result in your account being removed. NSFW, privately marked, or exposed photos are NOT acceptable. We will reject any salute that looks suspect or is questionable. Please do not take this personally.
If you are interested please send a Friends request to:
When approved you will get a message from one of the Fubar Street Team Family members that will instruct you on what to do next!
Viva La Resistance People Laet bring more users to our fun little hang out place!