Walk with us through the legendary Crescent Hotel and hear of its ghostly legends. The hotel was constructed in 1886 and known as the "Queen of The Ozarks" to the Victorians. In the teens of the 20 th century it was a fine girls school offering intriguing tales woven with history.
Hear of legendary haunts and ongoing investigations being conducted by our trained staff. The Lady In The Garden, Cancer Hospital Nurses, Michael, Theodora, are a few of the legends to whet your appetite of the "guests" that reside at The Crescent.
Follow the dark halls below the hotel into the realm of "Dr." Norman Baker and his Cancer
Cure Hospital where many dreams of a cure for cancer were never realized.
The long history of the hotel is represented through the ghosts that still inhabit it's halls and walls.And I will go there,even if its the last thing I do.As there are many stories and history.
Room 213:
This was overheard by a guest from a daughter and her mother who stayed at the hotel.
They were staying in room 213. The girl (age 13) said she felt "someone" poking her through the night while she was in bed and the next morning found her jewelry that had been on the dresser on top of her in the bed. Also, her mother said while she was blow drying her daughter's hair that next morning, the mom felt someone playing with the top of her (the mom's) hair.
Another paranormal experience in Room 213:
My mother, my godmother, and myself recently stayed at your lovely hotel on March 17th through March 18th. It was my birthday, my sweet sixteen of all things, so naturally us ladies wanted to do something interesting away from the men for once.
We spent the night in room 213. I had always believed in ghosts, but had yet to actually have an experience. We went to bed after our 9:00 ghost tour. I was disturbed from my sleep at approximately 6:00 A.M. I could have sworn that someone groaned directly in my ear, a man specifically. Soon after I took a shower. While I was drying my hair, my mother walked in and claimed that someone was playing with her hair. We started arguing, just a random disagreement about buying a ouigi board, and I felt someone pinching me on my waste. It wasn't too rough, but it was stern enough to pull a good yelp from me.

Before my shower, I had grabbed my necklace and set it down on the arm of the chair in the far corner of the room. Taking note that the chair was very sturdy, I sat down. The chain of the necklace was draped over the arm of the chair, the clasp broken and therefore very loosely hanging off, but to my surprise, as I glanced away I realized that the necklace had fallen directly in the center of my lap. Considering the position of the necklace and the fact that no movement I had made in that chair could shake it enough to throw the necklace, there is no possible way that the necklace could've ended up in the very middle. I found the broken clasp below the chair.

My paranormal experience ended with a bright orange orb flashing out of the top corner of my eye and out onto the balcony. I went downstairs to eat breakfast, grabbed the luggage as quickly as possible, and got out of there, feeling very uncomfortable and unwelcome all of a sudden.
Crescent Hotel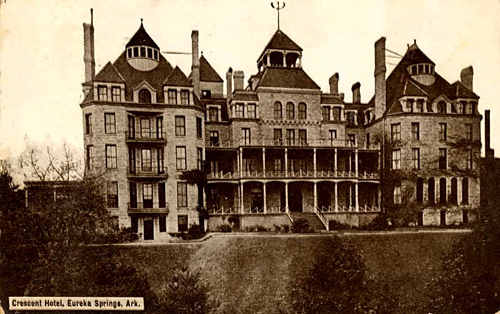 The Crescent Hotel was built in the 1800s. When it couldn't sustain itself, the hotel closed and was converted into the Crescent College and Conservatory for Young Women. The school closed in 1924. Ten years later, it repoened as a junior college, which only managed to stay open for four years before being converted into a controversial health resort in the late 1930s. When the owner went to prison for mail fraud, the health resort closed. In 1946, the building was restored and reopened as a hotel, which it remains to this day.
Summary of the Haunting
Crescent Hotel has a website on the ghosts which includes videos and pictures. Some of the paranormal activity experienced at the Crescent Hotel includes:
The ghost of Michael, an Irish stonemason who fell from the room and died near Room 218 in 1885, likes to play tricks with the lights and TV and pound on the walls.
A ghostly nurse is seen on the third floor.
Doors slamm shut.
People report being shaken awake at night
A Victorian gentleman is seen in the lobby near the stairs and in the lobby bar.
Ghosts have been seen in Rooms 202 and 424.
Doctor Baker's ghost (who ran the health resort) is seen in the old recreation room and near the first-floor stairway.

Strange Messages were being sent from 12/31/69
Three ladies had checked into room 303 and at the start of their arrival one woman continued to receive email messages on her I-Phone from the date, 12/31/69. This repeated throughout her stay but she could never open up the message. Later to be found out this particular year there was a major snowstorm in Eureka Springs and the hotel was closed down for a month.
Room 309-Man in a Black Suit
Hello, My name is Matt and my wife Melinda and I stayed at the Crescent hotel this weekend. (6-26-10) The hotel is very beautiful and well maintained. The staff could not have been more friendly and helpful and the breakfast we recieved on Sunday morning was exquisit. We also took the ghost tour and Glen was an excellent guide.
The fun that we had was disturbed about 1:00am on sunday when I heard the sound of shuffling feet in our room. I sat up in bed and to my horror I saw an old man who also seemed to be balding with a black suit coat and white shirt standing at the foot of our bed. I could only see this man from the waist up, there was nothing below his waist. I shook my wife awake and the ghost had dissapeared.
I asked my wife to lay facing me (since I was scared to death, lol) after about a half of an hour I started to feel something pulling my toes on my right foot, something poking my head and my right side. This went on for about an hour. After I thought I had enough for the night I heard a voice whisper the name "Darcy" into my ear twice.
After I heard the name I woke my wife up and said "We need to leave this room for a while" and we left. We went downstairs to inform the staff as to what happened and they didn't seem the least bit surprised but had said they had never heard of any "activity" in room 309. I'm glad we stayed at the hotel this weekend and would love to stay again as soon as I build up the courage.
Running Out of the Room
June 22, 2005
My husband, our two sons, myself, my mom and dad, two sisters and two nieces stayed at your hotel on June 20th.
My sister, her two daughters, and my other sister stayed in room 205. They had taken the lamp shade off the lamp so they could see better while they were eating and set it on top of the TV About 10 minutes later they came running out of the room telling us that the shade had "jumped" up and spun around and then fell on the floor.
Then that night they said that the phone started ringing about every 30 minutes and nobody was on the line when they answered.
My husband, our two boys and I stayed in room 210. Our toilet would not stop running so my husband took the back off the toilet and saw that the chain was off. He put the chain back on and the toilet was fine for about an hour and then it started running again.
He took the back off again to find that the chain was off again so this time he twisted the end on so that it wouldn't slip off anymore. We then went to bed and the next morning when we woke up the toilet was running, he looked in the back of the toilet to find that the chain had been twisted back the other way and it was off. We decided that we'd just leave it alone since someone wanted that chain off so bad.
My Mom and Dad stayed in 209. Everyone except for my Mom and Dad went down to walk in the garden, they stayed in their room. When we got outside we looked up at my Mom and Dad's window and saw them looking down at us so we started waving at them.
We then walked all around the motel which was beautiful. We all then went back up to my Mom and Dad's room to tell them good night and to ask them if they had seen us waving. They told us that they were never looking out the window and we thought they were just trying to play a trick on us until we looked at their window and saw that it was way too tall for them to have been looking out.
The hotel was designed by the architect Isaac L. Taylor in 1886.It was used as a hotel for several years before it could no longer sustain itself financially. In 1908, the hotel was opened as the Crescent College and Conservatory for Young Women. Soon it couldn't afford to stay open as a school either.The school closed in 1924 and then reopened from 1930 to 1934 as a junior college.
The Crescent was leased as a summer hotel after the school closed. In 1937, it got a new owner.Norman Baker turned the place into a hospital and health resort. Baker was an inventor and had made millions of dollars by 1934.Baker wasn't happy just inventing things because he thought of himself as a doctor (even though he had no medical training). He claimed to have discovered a number of "cures" for various ailments, including cancer.He was sure that organized medicine was conspiring against him. He had recently been ran out of Iowa for practicing medicine without a license.
Baker moved his cancer patients to Arkansas and he advertised the health resort.The "cure" was basically drinking the natural spring water. No one was really harmed by this, but it wasn't really the advertised "miracle cure". Federal charges were filed against him for mail fraud and he spent four years in prison. The Crescent Hotel was left ownerless.
The hotel stayed closed until 1946 when new investors took it over and began trying to restore this odd and historical piece of Ozark history.
On to the haunting, staff members receive frequent reports from overnight guests of strange goings-on in their rooms and in the hallways. Room 424 has had several visitations and Room 202 has had a ghost photographed in it. The most famous haunted spot is Room 218.Several guests and employees have encountered strange sounds and sensations in that room. Doors have slammed shut and some people have been shaken awake at night.
Room 218 was the location of a bizarre death.A workman fell from the roof during the hotel's construction and landed in the spot room 218 was to be built.He was killed instantly.
Just because you don't get a haunted room doesn't mean you won't see a ghost! People report seeing a middle aged man with a mustache, beard and formal clothing in the lobby and bar area. He never responds when talked to. He only sits quietly and then vanishes. In 1987, a guest claimed that she saw a nurse pushing a gurney down the hallway in the middle of the night.The nurse reached the wall and then vanished. Others have reported seeing similiar things. Even crazy old Norman Baker has been seen!
Why is the area so haunted? Many people that the spring water that flows underneath the hotel is high in energy and it attracts ghostly apparitions. Is this just a gimmick to help a failing hotel? It could be, but actually the hotel was starting to do well before the ghosts were sighted.