I'm having my first contest!
There's No Fee To Enter!
The contest will run for 2 weeks. And if I get enough entries the contest will start on Monday October 27th at 10 AM Central time and end on November 10th at 10 AM Central time.
There will be only 2 winner's

List of Gift's That Will be offered!
1st place with Most points (min 15,000) will win either a 7 day blast, 1 month VIP or a 25 Bling Pack. You chose the prize you want.
2nd place with Most rates (over 200) wins 1 Big Pimpin Gift as well as 250k in fubucks. :)
Rates =10 points and Comments =5 points
NOW FOR THE RULES!
1. You may submit any pic you want---MUST BE SFW ONLY 2. Self-Commenting AND Bombing Are Allowed AND Encouraged 3. NO DRAMA---Drama Will Get You Kicked OUT 4. NO SCRIPTING---Anyone Caught Scripting Will Be Kicked OUT 5. Your must be a FRIEND to enter or bomb, so make sure to RATE/FAN/ADD ME!!
6. Have FUN and ENJOY ENJOY ENJOY!

Click the pic blow to get to the entry's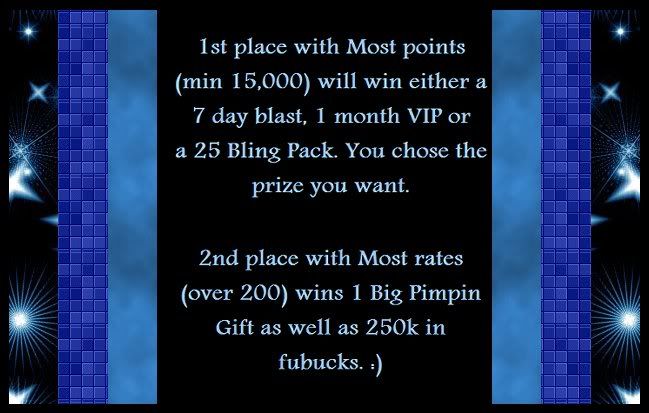 If you would like to enter the contest please send me (SinfulBrat) a private message with the link to the picture you would like to use (must be a still)

This Bulletin/Contest Brought To By:
SinfulBrat Owned By Photobug & HappyCountryGirl