This game is now closed.
Thank you all for playing :)


Game F.A.Q.



Who can I order for?

You may order for ANYONE on Fubar, with the exception of yellow staff, and anyone that refuses play. Anyone who wishes to be removed from the game may do so by requesting such through private message at any time. Not all people play for the win - most play simply to give the tokens as gifts to those they care for :) Please request removal ONLY if you do not desire to receive more tokens.


Can I order more than one at a time?

Yes, you can order as many as you want, for as many people that you want. To keep it organized, please send the appropriate amount of fubucks with a list of how many tokens are meant for each person. For example, if you send 5000 fubucks (enough for 10 tokens) you would say "5 to Dawn, User # 975528 and 5 to Cali4nialovin01, User # 884702." If you are have earned tokens, you can say something like "Rated Love Box #1 10s. 100 tokens for Dawn #975528".


How long does it take for them to receive them?

That depends on a few things. First, it depends on your order. If it wasn't placed correctly and I have to reply for more information, it will add to the delay. In addition to this, it depends on the number of orders received, and my personal schedule. Usually though, it takes up to 24 hours (but often within hours of request). I ANSWER MAIL IN ORDER OF RECEIVED, so I work from the back to the front of my inbox. Before you would always receive a reply from me, but thanks to the relentless security checks, I can no longer reply to each order. Doing so gives me the bouncer multiple times in a row, only to receive the "session expired" message.


How can I earn tokens for myself?

You can't buy them, but you may earn them for yourself or for anyone else. This is done through "standing bonuses" which are available to EVERYONE, EVERYDAY, as many times as you'd like. I've created a key with the values for earned tokens, so check that for more information.




How do I find someone's USER ID number?

I had to add this to the list because it is asked so often. To find someone's ID number, visit their profile. Their ID number will display in the top left of your browser, beside their name. Also, you can find it by hovering over their link on your friends list (if you have your status bar turned on) or by clicking REPLY to any email or gift received from them.


Anything else I need to know?

Sure! First, if you RECEIVE a token, it is NOT from me (I host the games, and I make and deliver the tokens, but it is up to everyone else to decide who receives them). You received it because it was YOUR user number on the order. Also, there are a few exceptions to the delivery rule. If I can't contact the person through mail, comment, and I've already left a friend request - I have no other means of delivering your gifts until they accept the request.



As noted in the blog comments, I've had to change the token image a bit in order to get the larger numbers to fit better. The revised version will look like the one below.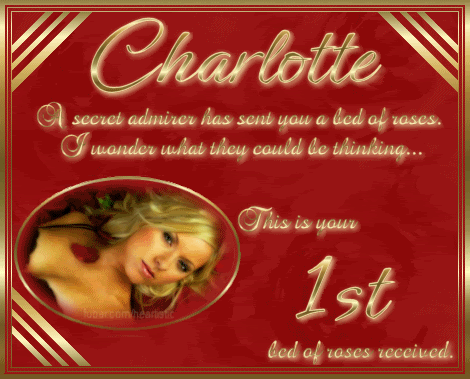 If you would like to leave a "Thank You" in the blog comments, please do so. The tokens are sent anonymously, but often people check the blog to see if their gifts have been delivered. You may not know who sent them, but they can see your note of thanks :)
The Scoreboard (Final Update)


2573 - Jumpmaster82 - 100
5870 - Lady J - 100
35418 - BornNRaised - 100
46775 - tomme - 16
72623 - Jenn - 190
110604 - Naughty Gurl - 25
117825 - Fu-Daddy - 10311
144752 - Pantera Rocks - 150
154913 - Red Gurl - 50
179038 - Thicknluvit - 100
196279 - Mario - 20
216966 - mfkn jc - 50
220581 - Mindtrip - 100
231400 - Leather & Lace - 5
258489 - Classical Kid - 2500
280773 - My Lady Angelface - 6840
284913 - texashunter69 - 5
289521 - Stryker - 10
306343 - Leeeeeza - 50
319570 - Cubby - 2400
346334 - ItsUrAngel - 600
383053 - Cherrybomb - 25
474969 - DragonMaster - 25
502784 - Marco - 600
525148 - Unsatisfiable - 50
526822 - aGEM4life - 600
544781 - Hot&Fluffy - 500
549230 - Misfit - 300 (FR)
572453 - sin - 50
595165 - Witchesbrew - 31471
596898 - DJ Master Sephiroth - 10
619903 - King Arcade - 2000
629261 - Shine - 25 (FR)
690405 - Texas Twister - 9025
697167 - Allure & Insanity - 50
709798 - Lisa - 10
714945 - Vixen260 - 300
718223 - Chas - 5
733942 - Catie - 100
754481 - Q-Tee - 25
811838 - Clipdog - 500
820034 - WetCat - 2000
845243 - Marina - 300
846218 - Nina - 2000
867012 - LadyLove - 1500
884347 - Andrea - 225
886660 - IslandGirl - 20
901533 - Cindy - 90 (FR)
930139 - Gail - 500
960530 - Rain - 10595
965140 - PIA - 50
970110 - Canadian Princess - 100
981574 - Wonder Woman - 2025
999168 - Toasty Rosie - 200
1037258 - Heartistic Soul - 300...I won't tell myself!
1053721 - Rican Barbie - 25
1066697 - cutterbum - 2050
1090718 - MzChelle - 10
1097742 - CuddleGoddess - 505
1103411 - Momma Tasha - 5
1115284 - iihoneyii - 50
1135818 - Miss Allisandra - 50
1139494 - BULLdaddy - 4000
1144641 - Windy - 13000
1158563 - Erikuhhh - 10 (FR)
1175385 - MsCharlotte2U - 5850
1186996 - WickedAzz Beotch - 50
1204468 - Bitch Ima Star - 25
1225423 - Cllgegrl - 25
1250810 - Rebbie - 500
1288868 - HoosierTexan - 4000
1326658 - ChaoticSerenity - 100
1328194 - PurpleSky - 23360
1369518 - Pisces1971 - 1325
1405600 - BB - 25
1449978 - TomyB - 100
1450398 - Simply Cbrina - 50
1459113 - Sweet_Southern_Lady - 20
1461626 - DJ SexyTexy - 100
1471939 - Justfishing - 2500
1494994 - SouthernOutlawBiker - 25
1505397 - Feebee - 1000
1513098 - So Fresh - 605
1541587 - Pirced Princess - 10 (FR)
1546620 - h3llzzslady - 10
1560740 - Cassie - 40
1566337 - kcitygrl - 285
1573245 - Liz - 2025
1574433 - NunyaB - 3000
1577661 - Jmo - 250
1602860 - Shaylynn Rene - 35
1605391 - Serendipity - 40 (FR)
1605937 - GamerKitten - 10
1615450 - mrcharm - 2000
1623952 - Mrs. Favre - 2000
1682184 - Bones - 500
1690010 - MD's Sweety - 20
1703662 - Cin Cin - 10
1736999 - Nance - 25
1749622 - Katie - 4000
1769700 - AlienDogStar - 100
1784702 - Tow - 200
1817870 - DJ Sexy Sultry - 1800
1818503 - Michelle - 500
1826056 - Shaz - 40
1853366 - John - 70
1861232 - So Fly - 25
1863134 - Rapsnap - 800
1893493 - Ruby - 100
1899145 - VolareDave - 200
1907173 - Wicked Little Punk Girl - 25
1927685 - SexyKitten - 10
1929076 - Smokey - 10
1929958 - Stoned Immaculate - 100
1948634 - youngmc - 25
1950069 - Grlskikass - 100 (FR)
1961822 - Danny Butthead - 40000
1991075 - armyvethunnie - 10
2070809 - DJ SinfulSuzy - 20
2115799 - SweeT niS - 40
2121748 - Among The Wildflowers - 65 (FR)*Unable to deliver*
2129437 - ImherAngel - 50
2134123 - snowie - 25
2157304 - Moon2Watch - 200
2177303 - Holio - 450
2183445 - Jeremy's Girl - 2000
2234577 - RockCandy - 100
2256246 - Tammy - 25 (FR)
2257801 - Julz - 50
2259464 - Beckee420 - 1600
2262442 - Timmah - 10
2264216 - Bama - 100
2268720 - NSA - 600
2274625 - Kitty - 10
2279243 - yourbestkeptsecret - 25
2279739 - PepperFuego - 25
2292017 - Miss Keia - 10
2298957 - Princess - 25
2303325 - Nadia - 200
2310830 - A R A S - 10
2318113 - Wet Mer-Maid - 50
2320976 - Undress for Success - 100
2339544 - Iwana4u - 100
2341649 - Nebular - 500
2352982 - Baby Grl SummerGirl - 10
2382074 - Kristin - 40
2412474 - Psychosocial - 500 (Invalid ID)
2422902 - Nightwalker - 20
2455317 - I'm Your Dream Girl - 10
2476763 - Jozzeline - 50
2483932 - Tech N9ne Soldier - 600
2488346 - VW Addict82 - 100
2505353 - Kimberly Dawn - 25
2638922 - t'nonna - 100
2646094 - lil' texas rose - 100
2653413 - Elizabeth - 250
2671872 - Mollybird - 12
2673197 - Illusion - 100 (FR)
2681641 - pumkin41 - 25
2685410 - Axiz Deni - 100
2698792 - Dragon - 500
2710767 - Sin like you mean it - 25
2713087 - silly - 50
2719364 - Hotlips - 40858
2721488 - Audrey - 10
2748474 - pandabear - 50
2762886 - Jodiemew - 25
2773074 - Exotic Barbie - 40
2779536 - Hope - 50
2797485 - PunkyPrincess420 - 100
2819875 - frankyhardtimes - 200
2844679 - The Incredible Edible April - 10
2952879 - PeacheS - 10
2953007 - Carpdron - 100
2997236 - Vixxie - 200
3012748 - ieatprettykitty - 40
3037194 - fiestysouthernbelle - 1350
3091290 - Mz. Teezy - 10
3095356 - Sharpshooter - 25
3128829 - HarleyRaiders1 - 14676 (Deleted Account)
3138001 - Airica - 40
3154287 - ck chevygirl - 500
3155917 - Tabbii Cakes - 10
3163553 - Bobbi Jo - 125
3181751 - IndraDragon - 100
3228887 - BabyDoll - 100
3239630 - Anna - 10









:)