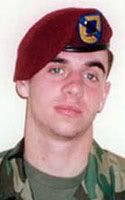 Died May 30, 2003 serving during Operation Iraqi Freedom 20, of Emerson, N.J.; assigned to the 519th Military Intelligence Battalion, Fort Bragg, N.C.; killed in a vehicle accident near Mosul, Iraq.
Copyright © 2016 Social Concepts, Inc. All Rights Reserved. Patent Pending.
blog.php' rendered in 0.2229 seconds on machine '200'.