it never fails to amaze me how many people have no clue about how things work behind the scenes. and how it could all be fixed so easily, yet the willingness to do so simply doesn't exist amongst the most greedy.
source: http://money.cnn.com/2011/09/13/news/economy/poverty_rate_income/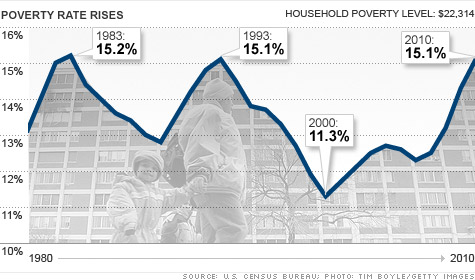 NEW YORK (CNNMoney) -- Amid a still struggling economy, more Americans fell below the poverty line last year, according to new census data released Tuesday.
The nation's poverty rate rose to 15.1% in 2010, its highest level since 1993. About 46.2 million people are considered in need.
The government defines the poverty line as income of $22,314 a year for a family of four and $11,139 for an individual. The Office of Management and Budget updates the poverty line each year to account for inflation.
As for middle-class American families, income fell in 2010. The median household income was $49,445, down slightly from $49,777 the year before.
Overall, median income has changed very little compared to rising consumer prices over the last 30 years. Adjusted for inflation, the middle-income family only earns 11% more than they did in 1980, while the top 5% richest Americans saw their incomes surge 42%.
Amplifying that trend, the bottom 60% of American households saw their income fall last year, while households making $100,000 or more enjoyed a rise in income.
The figures weren't very surprising, given the unemployment rate remained above 9% in 2010 and the number of Americans who have been unemployed for six months or more surged to an all-time high during the year.